In the famous Hans Namuth video of Jackson Pollock painting on a glass screen, the abstract expressionist artist lets the dark paint flow and drip from his brush in swirling lines and loops as he looks down and into the camera against a deep blue sky overhead.
Often pictured with a spent cigarette in the corner of his mouth, Pollock and his scruffy, paint-stained persona belied the actual artist of the mid-20th century. He worked by rules and methods and with effort to create chaotic images of colorful and, sometimes, black-and-white squiggly lines and splotches.
At East Ascension High, students in Alexis Mistrot's drawing and higher-level art classes are learning this basic lesson: that even in the most expressive of fields, it's the baseline rules and regular practice that give the artistic foundation to advance and move ahead.
"Creative (thinking) is the top of the higher-order thinking scale, to be able to come up with something original, and so that's what art is constantly reinforcing," Mistrot said in a recent interview. "It's also showing them that they can learn a skill that you may just think takes talent. Most of them come in — they don't think they can draw. By the end of it, I'm showing them and proving to them that if you practice every day, you're going to get better at it."
Mistrot, 28, spent her early childhood years in Chalmette growing up in the neighborhood near St. Mark Catholic Church until at age 10. She and her family were washed to Haughton in north Louisiana by Hurricane Katrina.
In college, she started out as a pre-med major but soon decided that she needed to follow her passions, art and music.
Mistrot, also a flutist, followed that path to teaching art in addition to continuing her own painting. Teaching about 80 students at East Ascension High, she said she understands south Louisiana culture and has embraced the deep school pride of the Spartans in Gonzales.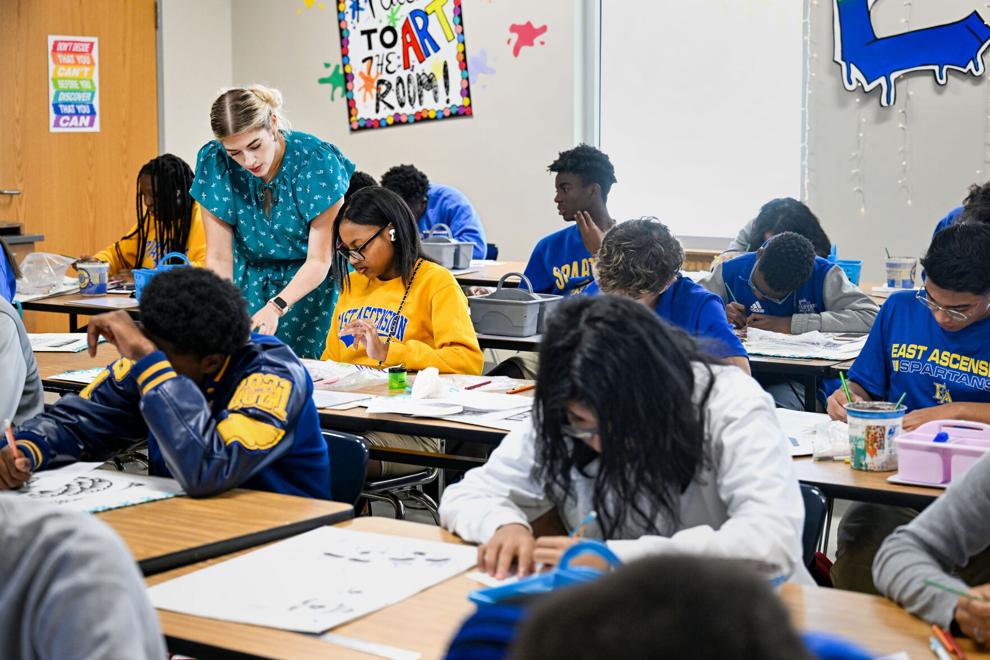 A recent East Ascension Facebook High post of some of Mistrot's Art I students' work demonstrates the seventh-year teacher's confidence in improvement through knowledge and practice.
Displayed were before-and-after portraits with a focus on the eyes of the students' subjects.
Without fail, the "after" images were sharper, more defined and seemingly more "real." While shading and other techniques were often better in the "after" pictures, it was the eyes that, in large measure, lent the spark of life to the pencil images.
Mistrot explained that a number of techniques lend realism to the eye, including how eyelashes are shaped, but most important is the "highlight" — that little white spot drawn toward the center of the eye that helps create the glassy sparkle of a human eye.
When someone talks to a person who they know, Mistrot said, they look into their eyes, and, in a portrait, the tendency of the viewer is to do the same, to focus on the eyes.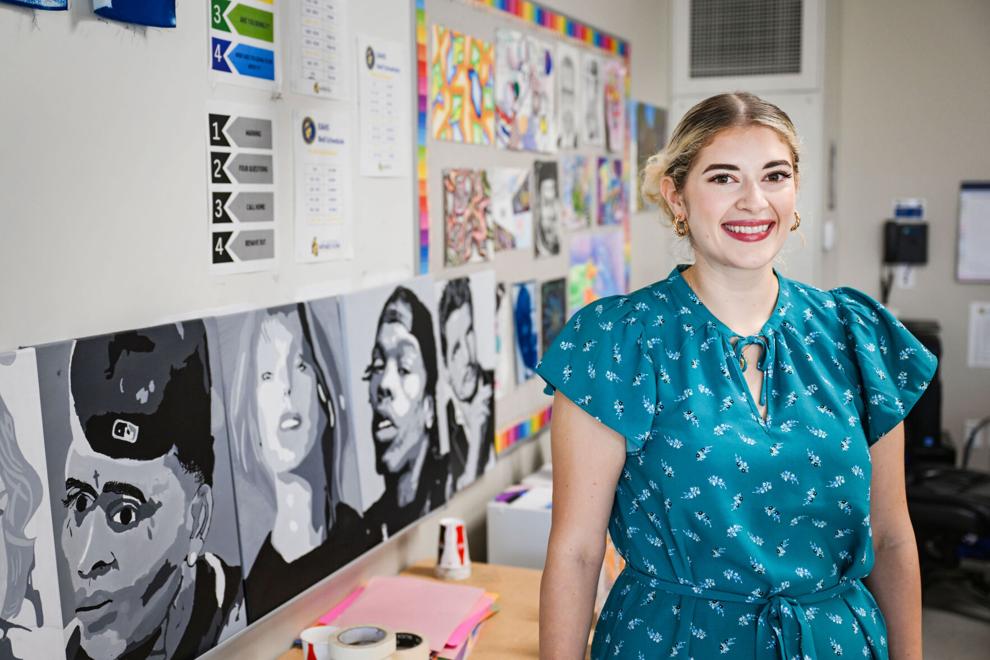 "So, I think that's why it's the most recognizable part of a person's face and it really makes it what it is. Like, if you get the eyes wrong, it doesn't look like a person," she said.
As a mix of rap, R&B, rock and pop played lowly in the background during a recent visit to Mistrot's classroom, students focused at their desks on the latest project at hand: nonobjective art in watercolor pencil.
Made famous by artists like Wassily Kandinsky in the early 20th century during Germany's Bauhaus movement and expanded on by Pollock and others in the United States, nonobjective is a form of abstract art that Mistrot explained does not contain "any recognizable objects or shapes."
Mistrot said that her students had been tasked with using color, lines and geometric shapes to convey one of four emotions in their nonobjective composition: confused, elated, somber or dynamic.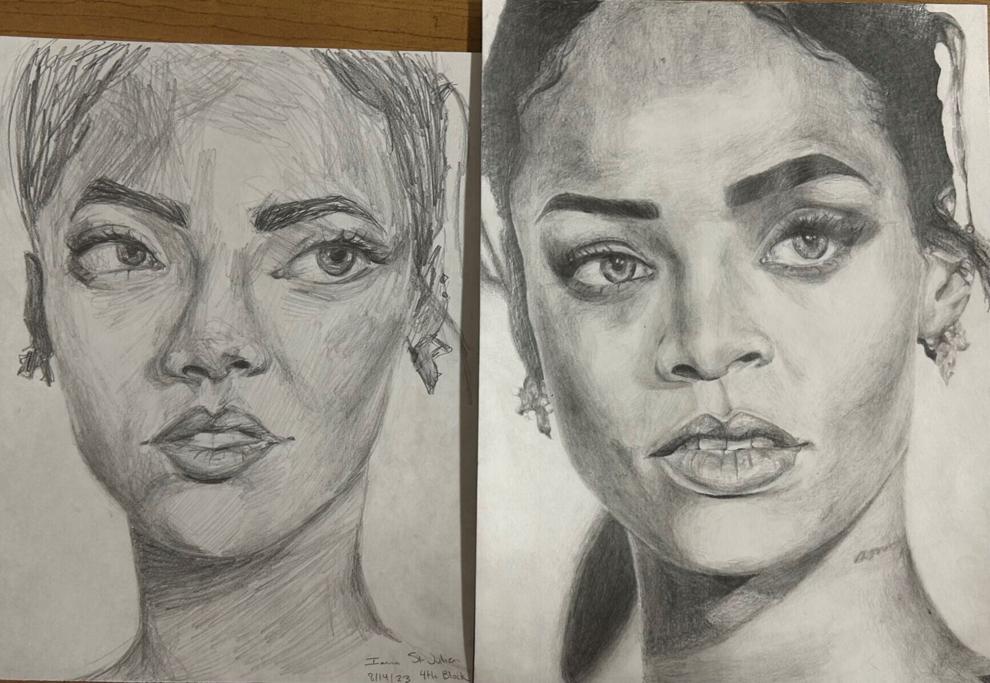 Unmoved by the disruption of visitors to Mistrot's class, Victor Lara, 16, was keeping his dark bushy head of hair down and his face on his composition. He was switching colored pencils back and forth as he worked on evenly spreading the colors in his work, which was sliced diagonally by straight and zigzag lines meant to convey energy.
Lara said he likes to draw at home and prefers making images with sharp, angular edges. Some of his works have focused on science fiction touchstones Optimus Prime of the "Transformers" universe, Darth Vader of the "Star Wars" movies, and the DeLorean time machine seen in the "Back to the Future" movies.
Lara, who said he was hoping to convey dynamism with the sharp lines and mixture of colors for Mistrot's project, had wound up in her Art I class after he tested out of Spanish.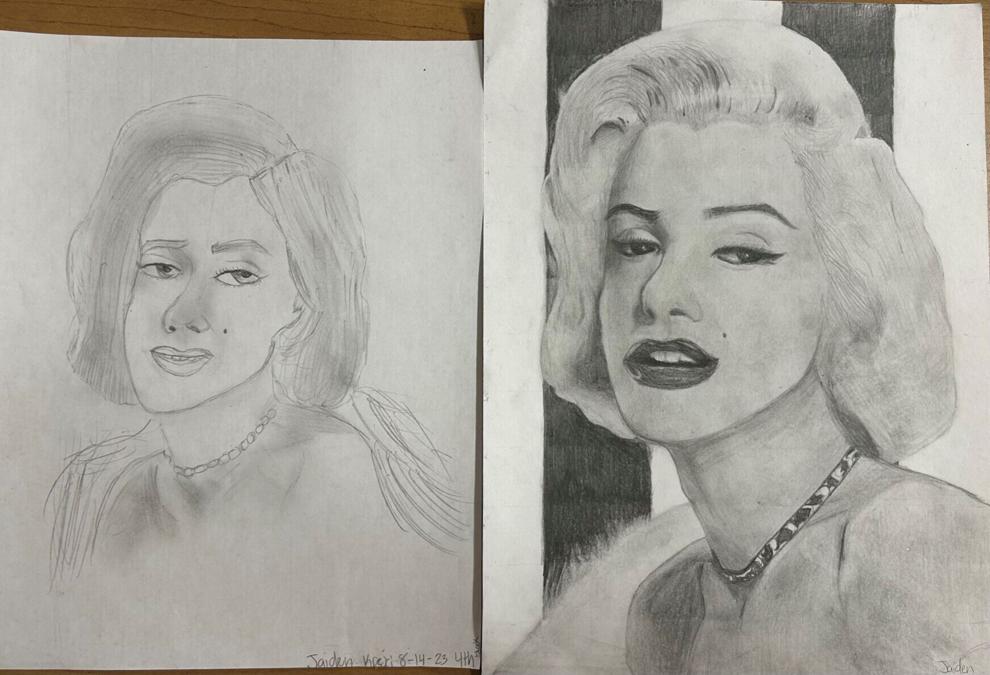 He said he has enjoyed the chance to express himself and "times flies by" while in her class.
"If I could, I would spend more time in here," he said.
Mistrot said that hers and other teachers' art classes are not only helping students to learn specific artistic skills but also to think critically by being forced to come up with their own ideas. Her students often have their conceptions expanded about what "art" is, both as a key part of the culture and as a realistic opportunity for themselves later in life.
Since she has her students early in the semester, Mistrot often asks them what "art" is — most respond initially with popular notions of art often seen as remote from everyday life, visual artists like painters or sculptors.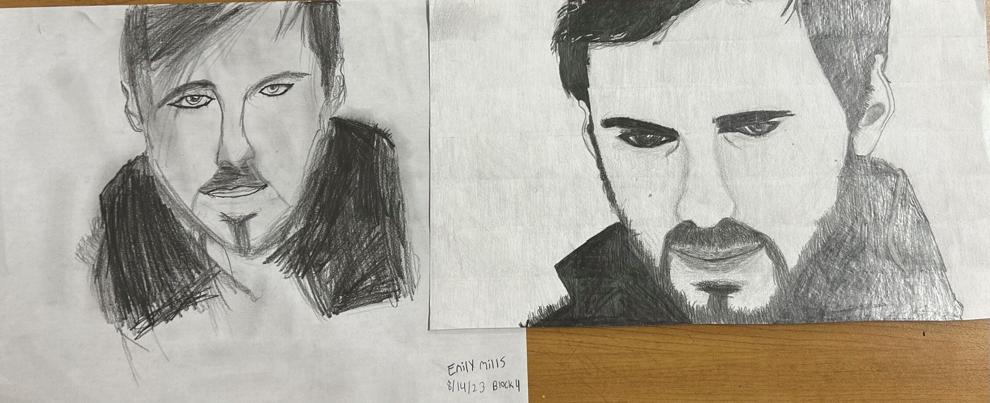 Then, they watch "What is art?," a video.. From watching and learning from the video, most realize that art is important to them and is almost everywhere — from music to the latest tennis shoe and clothing designs.
"We consume art every day. Most people, just, I don't think they realize that that's what they're consuming," she said. "And so we think that the arts aren't important, but if we didn't have it at all, life would be pretty boring."