At 330 pounds, Gregg Schenck had tried just about every diet by age 56.
For a while, some of them worked. But always, the weight came back.
He knew he needed to make a permanent change. He couldn't get down on the floor to play with his young granddaughter. He wanted to go to Disney World with her but worried about squeezing into an airline seat.
So when the software developer got an email from his company in Nov. 2021 about a new weight loss program, he seized upon it.
"That's my lifeline," he thought to himself.
Schenck is now one of the dozens of workers part of a health program focusing on a low-carb diet at Laitram, a Louisiana manufacturing company that got its start in 1947 with the first patent for a shrimp peeling machine. The company now produces a range of machinery and employs shift workers as well as tech workers. Through the program and a number of other Silicon Valley-esque health benefits that include subsidized salads and on-site medical workers, Laitram slowed the growth in its health insurance costs, which had increased by an average of 10% per employee from 2009 to 2011 to around a 3% increase after 2012.
The approach could be a blueprint for other large companies in Louisiana, where health insurance costs are among the highest in the nation, according to a report from Forbes Advisor. Louisiana had the fifth-highest increase in overall health care spending per person between 2016 and 2020 at 23%. Only New York, Hawaii, South Dakota and California saw a bigger spike.
With a population that is sicker than most, Louisiana employees have much to gain from more robust health benefits. Louisiana has a higher rate of newly diagnosed diabetes than any other state, according to the Centers for Disease Control and Prevention. The state has the seventh-highest rate of obesity among adults, at nearly 39% and is in the top five for heart disease deaths.
As benefits got swankier, costs went down
Before 2012, human resources director Franck LaBiche watched the amount Laitram paid to insure each employee jump as much as 15% from the year prior. Because Laitram is self-insured with about 3,000 workers in the U.S., a single big health event among workers, such as a premature birth or a cancer diagnosis, could also spike costs.
LaBiche started chipping away at those costs in ways that are uncommon at Louisiana companies.
The company staffed a free, on-site fitness center with personal trainers and a registered dietician at the company's headquarters in Harahan. A pharmacy is available on company grounds where medications are distributed free of charge. A free health center with a mental health counselor, nurse practitioner and physical therapist is also open to employees on the work campus. In the cafeteria, salads were subsidized for $4. A few months ago, the company started offering discounted continuous glucose monitors, typically a tool for people with diabetes, to anyone who wanted to track how food affects their blood sugar.
The company also opened two health centers on their Baltimore campus and one planned for the Hammond facility.
"A lot of it, in the beginning, was cost-driven," said LaBiche. "But we've seen a lot of a lot more than controlling of costs that have come out of it. It's created a lot more productivity, efficiency and control."
For example, a shift worker doesn't have to clock out to visit the on-site health center. What might take two hours or more if an employee had to go to urgent care takes about 30 minutes on campus.
Thousands in drug savings
Since the pilot group, Laitram enrolled another 40 people in the program. According to an analysis of the initial nine employees who were in the program, there is also potential for drug savings for the company. Based on the average retail price of medications each of the nine employees were able to stop taking as they lost weight, Laitram could save around $45,000 per year, far more than the $200 per month the company pays for each employee in the program. But what CEO Jay Lapeyere, who has long followed a low-carb diet himself, noticed was the culture shift. People grabbed him in the hallways marveling at the amount of weight they shed. At an office party, which normally featured heavy carbs, someone made a keto cheesecake.
"I would say (drug cost savings) are small compared to the benefits you get from the people whose lives change and their productivity is very different," said Lapeyere. "The track they're on changes pretty dramatically.
Weight loss
In the first six months of the program, the nine participants lost an average of about 38 pounds and lowered their blood glucose by 1.1%, a significant drop that shifted some out of a diabetes diagnosis. Their blood pressure also went down on average from 141 to 120, according to the analysis, published in Metabolites, a peer-reviewed journal.
The creator of the program, Dr. Tro Kalayjian, has found that support is key for his clients. Employees get access to an app where they can receive messages from peers when they are fighting the urge to hit the vending machine. Laitram is the first employer program he has taken on, and at first he was hesitant, because employee wellness programs, such as Weight Watchers or incentives for blood pressure checks, never make a big impact, he said. But Laitram said employees would enroll on a voluntary basis, understanding it was an intensive program.
"It's not like, 'Here you go, here's a meal plan and see you later," said Kalayjian. "Let's figure out what difficulties you had. Let's figure out what's working well for you."
Kalayjian's New York City-based team learned the rhythms of the Louisiana employees and what would help them adapt to a new lifestyle.
"We learned to make king cake with almond flour," said Kalayjian. "We worked with a bakery in Metairie so that the people in the plant could get low-carb desserts and low-carb breads."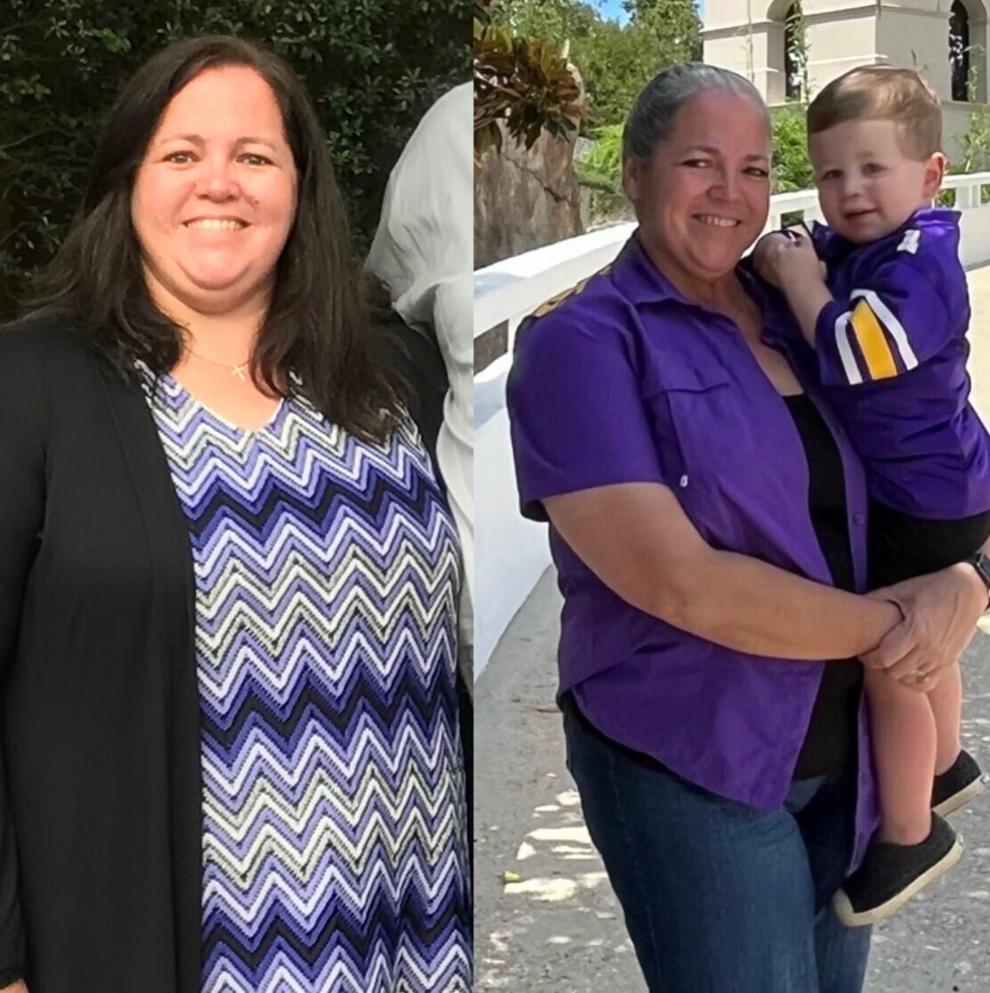 Tammy McDonald, another of the initial nine employees, has lost 63 pounds, also shedding a diabetes diagnosis and the medications for it. At 52, she took up running. When she reaches her goal of 160, she plans to renew her vows with her husband of 33 years in the same dress she married him in.
"I'm never going back to eating the way that I did before," said McDonald. "I feel too good. I can work all day, take care of my house, take care of the kids, taking care of my parents, all of those things that I couldn't do before," said McDonald.
Two more cohorts of employees from Laitram have started the program with similar results.
Long-term results remain to be seen
Low-carb diets are not for everyone, though.
Dr. Taniya de Silva, chief and program director of endocrinology at LSU Health, said that the data is preliminary and needs more follow-up to measure whether employees can stick to the diet. She also pointed out that, outside of a daily carb limit of 30 grams, the diet was individualized to each person, so it's hard to know whether it was the low-carb diet itself or the support employees received that tilted the scales. But she also appreciates a company stepping up.
"I like the way this company is thinking," said de Silva. "I would support any company trying to move forward with helping employees be healthier."
Although in the back of his mind, he's worried at times he might slip, Schenck feels like this diet has allowed him to see the effect of sugar on his body and stop his cravings. He's committed in a way he says he hasn't felt before. He can also play with his granddaughter. They left for Disney early this week.
"She tells me all the time, 'Come play with me,'" said Schenck. "I see so many benefits and rewards for doing this."