Coach Kim Mulkey and her LSU basketball team are getting their bags packed, ready to head to Washington, D.C. Thursday morning to meet Congress in the Capitol that afternoon and Pres. Joe Biden in the White House Friday.
"I'm not ready yet, but I will be by dark," Mulkey said Thursday morning. "This will be my fifth president to meet (for winning a national championship)."
Mulkey's first trip to the White House for winning a national championship came when she was playing at Louisiana Tech. On that trip, she met Pres. Ronald Reagan in the Rose Garden. 
She went to the White House a second time to meet Reagan when she played for the U.S. Olympic team and won a gold medal. 
Her second trip to the White House was in 2005 when she led Baylor to a national championship. On that visit, she met Pres. George W. Bush in the Oval Office.
Then in 2012, when Baylor won again, she met Pres. Barack Obama in the East Room. 
In 2019, for Baylor's third win under her leadership, she met Pres. Donald Trump in the Oval Office. 
Plans are in place for the 2023 NCAA National Champion LSU Tigers to meet Pres. Joe Biden in the East Room. Mulkey said she understands first lady Jill Biden and vice-president Kamala Harris will also be there and both plan to speak. 
Loyal fans may wonder what Mulky plans to wear for the White House event. 
"Listen, y'all are going to be disappointed in my outfit," she said. "It's nothing like I wear for games. It's a classy, conservative look, appropriate for the White House."
Jennifer Roberts, the team's director of player personnel and influence, describes the outfit Mulkey plans to wear to Friday's White House visit as being simultaneously "very contemporary" and "very conservative."
"It's very White House-ish," Roberts said. "No bling."
Grant Kauvar, assistant communications director, confirms that the entire basketball team will be in D.C. for the White House event, including Last-tear Poa, who had gone home to Australia to be with her family for summer.
Kauvar has been busy trying to make sure all the work is done to get everyone on the team and the local media attending to have the proper permissions for the White House visit. 
"I'm trying to work through all these last minute details," said Kauvar, who graduated from LSU in 2018 with his undergraduate degree and in 2021 with his master's.  
"The biggest learning curve of the season has been the increased media attention from what it was when Coach Mulkey started to now," he said. "Coach Mulkey was the main attraction with first team — and she still is, but with the players we have now and the players we're bringing in — there's more celebrity. There's a large increase in media wanting to do the team. The requests are nonstop."
Kauvar said he's had six virtual meetings with representatives from the White House to get all logistics nailed down.
"They're making sure they have all their i's dotted and t's crossed," he said. 
He said the team will arrive at the White House about two hours before the official meeting begins at 2 p.m., allowing for time for a run of show and rehearsal.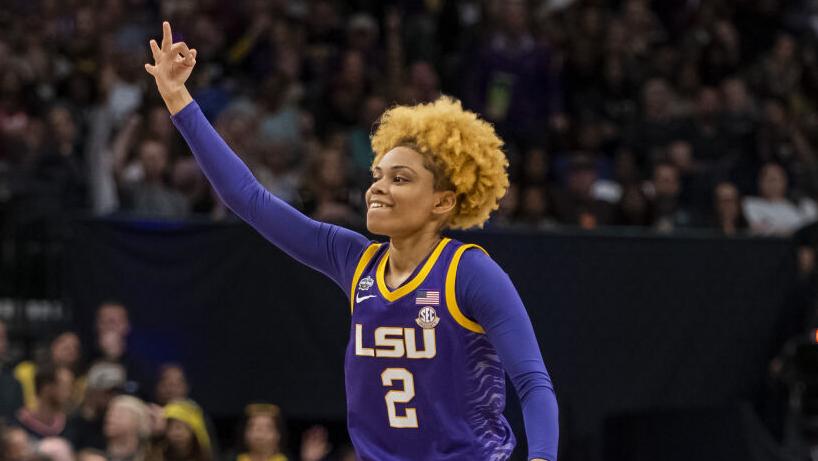 Jasmine Carson, who lead her team in scoring in the 102-85 defeat of Iowa in the finals, is now living in Dallas. Carson said she is excited about going to the White House, but it won't be her first visit either. She and her grandmother visited the Obamas when she was 10 years old. 
Roberts has been busy getting the team ready for the trip to Washington, D.C., including a few NIL deals with a local designer who will provide suits for some of the players to wear to the White House. She said one challenge has been that many players have been out of town since the semester ended. 
This will be Roberts' fourth trip to the White House, as she has worked with Mulkey since her Louisiana Tech days. 
"As with any national championship trip to the White House, we've had the excitement and the build up with the players — the apprehensiveness of not knowing," Roberts said. "You see the White House. You hear about the White House, but now you're going to the White House."