Can't see it? Watch here.
"We're here taking in the color, the energy, the love, the rhythm, the music — everything that Mardi Gras has to offer the celebration," says Charita Carter, who is Disney Imagineering's executive creative producer for the ride, in the video. "After all, Tiana is throwing a one-of-a-kind Mardi Gras party and everybody is invited."
Carter, in the video, is decked out in beads and a crown outside Dooky Chase's Restaurant. Princess Tiana is inspired by Leah Chase, the longtime chef and owner at the restaurant.
'Inspired by people from New Orleans'
The video also includes parade floats, St. Charles Avenue street scenes, marching bands, New Orleans architecture and more.
"The atmosphere here is one of a kind," says Ted Robledo, executive creative director with Walt Disney Imagineering, in the video. "This is where Tiana is from. She's inspired by people from New Orleans.
"Tiana has a love for her community, a love for her city and that's exactly what we want to bring to this brand new story and adventure," he adds.
What is the new ride?
Splash Mountain closed in Florida in January and is expected to reopen in late 2024 as the new ride. Splash Mountain in California also will transform, but officials haven't released a timeline for the closure.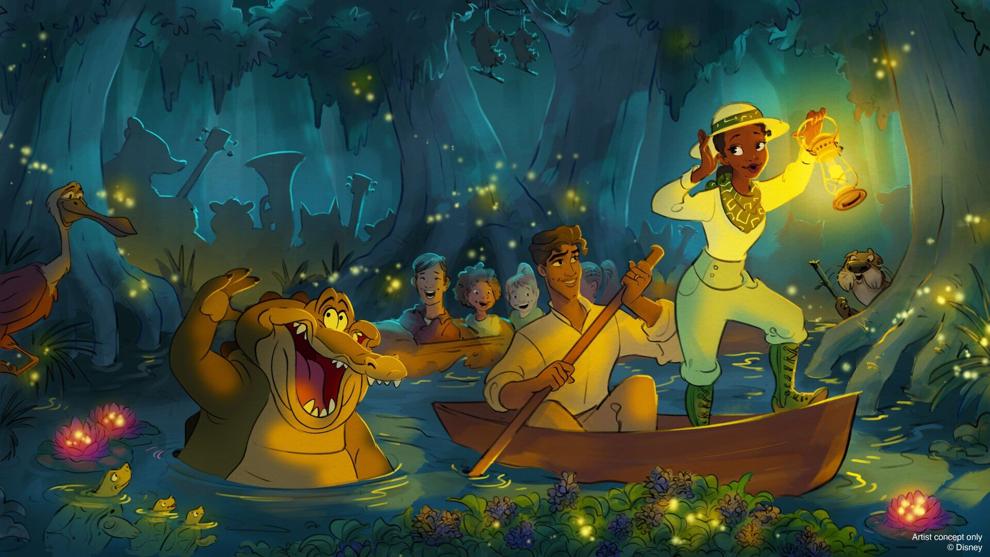 The revamped ride is inspired by the 2009 Disney film, "The Princess and the Frog," which features Disney's first Black princess.
The ride is set in the 1920s like the film and will pick up where the movie left off.
"Guests will join Princess Tiana, Naveen and jazz-loving alligator Louis on an adventure through the bayou as they prepare to host a one-of-a-kind Mardi Gras celebration where everyone is welcome," Disney said.